Easy Chicken Piccata
COMMENTS

(0)

FILED UNDER: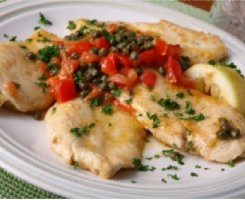 Everyone loves some good breaded chicken, but who has time to do all the prep work?! Not you, the busy budding executive (or whirlwind creative). There is, however, an excellent alternative to egg washes, flour and, bread crumbs: the awesome prepackaged breaded tenders from Bell and Evans. Sure, this has a higher cost factor, but you the busy budding executive (or whirlwind creative) are adept at cost/time analysis, so this should not throw you off. With three simple ingredients and a few pantry staples, you'll be ready to eat in literally 10 minutes.
You'll need:
* Olive Oil
* Capers
* Bell and Evans Breaded Tenders
* Lemon
* Spaghetti
Put some water on the boil for your spaghetti. While this is doing, heat a large skillet with olive oil. Brown your tenders until golden and crisp and delicious. When you've reached desired "doneness," add capers and squeeze in the juice of one or two lemons. Simmer away on low. Cook pasta. Drain pasta, and toss with olive oil and a little grated parm. Serve chicken over the spaghetti. Drink a Peroni.