DIY Holiday
COMMENTS

(0)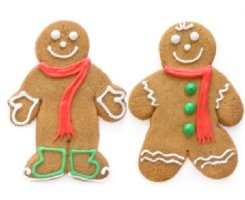 We're now entering the peak of holiday season, and you may be struck with the sudden urge to throw a holiday party or just make your apartment a little more Christmasy...or Hannukah-y...or Kwanza-y...or whatever. The good news is, it doesn't have to break the bank. Tiny Tim is in fashion this year, so don't be ashamed to make a budget and check it twice. Here are some tips we've picked up for saving some loot and having fun in the lead-up to New Year's Eve, which will invariably be expensive and unfulfilling.
Save On a Tree. Christmas trees can be pretty expensive, and you always need to factor in the stand as well, which can run $10 to $30+ depending on the size of the tree. In terms of saving loot, there are really only two good options: 1) Go to a Christmas tree farm and cut down your own, which is the most fun but may not actually save you money if you have to drive miles to get there, or 2) Buy on Christmas Eve, when prices drop significantly. You can always just scale down to a nice poinsettia, as well.
Host a Yankee Swap. The "Yankee Swap" goes by many names, such white elephant gift exchange, Selfish Santa, and Scrooge's Christmas. Basically you have a party where everyone brings a wrapped gift, preferably cheap and humorous. As each person takes a turn to open a gift, he or she has the option of either keeping that gift or swapping for something that's already been opened. Everything's fair game until the last person goes. It was funny in The Office and it shall be funny at your home.
Make Your Treats. These season ain't the same without some form of overindulgence, and it might as well be eating. Chowhound has great recipes for holiday foodstuffs, including latkes, cookies, and the requisite holiday cocktails.
Scale Back Your Party Plans. The Wall Street Journal has some tips for keeping party expenses manageable, including going the pot luck route (or BYOB for that matter) and shopping at discount warehouses like BJs and dollar stores.
DIY Decorations. Arts and crafts may not be everyone's cup of tea, but if you've got the time and think it's fun why not make your own ornaments or Hanukkah decorations?