The Debt Chronicles
COMMENTS

(0)

FILED UNDER: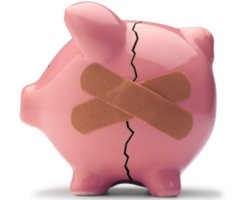 The dog days of debt have consumed the nation, and as members of so-called "Generation Debt," perhaps it's time to face the facts and peer into the abyss of our bank accounts. Check out these articles from Consumerist to get the ball rolling on a new era of financial self-awareness:
12 Signs You're Addicted to Debt. Do feel like when you use a credit card at lunch, you're not actually paying? You may be a debt addict.
Reader Pays Off $14,330 in 20 Months. An inspirational tale for anyone living with suffocating debt and trying to figure out how to reset the balance. Some great tips in here, including a sample script for calling the credit card company to negotiate lower rates.
Confessions of a Shopaholic. I'm pretty excited for this movie to be 2008's DWP, but I have to admit it glorifies horrible spending habits. Funnily enough, the Consumerist reader who settled her $14,330 actually used the technique of freezing her credit card in a block of ice…but she refrained from hacking it out. Take it as a caveat, or a much-needed hit of escapism.
Via Consumerist