Contest: Win a Pepsi Throwback Pack
COMMENTS

(0)

FILED UNDER: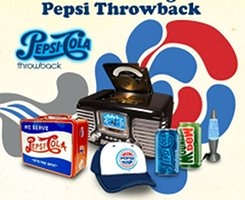 Another Friday, another giveaway. With the dog days of summer fast approaching, we're just waiting for that chilled-out, post-graduation vibe to wash over us in an awesome wave. Hopefully you're on the same page. If so, our friends at Pepsi have a little something to help you party like it's 1969: a Pepsi Throwback prize pack, complete with (wait for it...wait for it) a USB LAVA LAMP!
You know the drill by now. To win this groovy treasure chest, just respond to the following question: Send your answer to editor [at] gradspot [dot] com.
If you had to bring back one track from the 60s or 70s to be this year's "Song of the Summer," what would it be?
Our editorial team will choose the winning track in the only way that such a track can be chosen: willy-nilly.
The Pepsi Throwback pack includes:
* Pepsi Throwback Trucker Cap
* Retro Pepsi Tin Lunch Box
* Retro Clock Radio/CD Player
* USB Lava Lamp
* Pepsi Throwback & Mountain Dew Throwback
Pepsi Throwback is going to be available nationwide until June 20, so look out for 20-oz retro designed single-serve bottles and 12-pack cans.