Contest: Win a No Fear Gift Pack!
COMMENTS

(0)

FILED UNDER: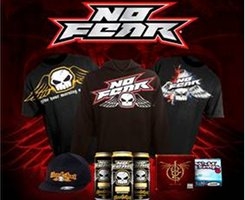 "No Fear" is not only an energy drink that's way more hardcore than Red Bull. It's also a fitting motto for life after college (as well as base-jumping, heli-skiing, and looking at your credit card bill). You see, a lot of recent grads don't live up to their potential because they're scared of failure. Well, it's time to throw caution to the wind! To stoke the flames of boldness, we want to give away some free cred, kindly furnished by No Fear Energy Drinks.
To win the gnarly box of items listed below, all you have to do is send an answer to the following question to editor [at] gradspot [dot] com:
Which TV show has Dan Cortese NOT appeared in?
(A) MTV Sports
(B) Melrose Place
(C) Seinfeld
(D) 90210
Be the first and you'll snag the bounty:
2 x No Fear Hoodies

2 x No Fear T-shirts (one of each style)

1 x No Fear Bloodshot Hat

1 x 12-pack of the new No Fear Bloodshot Energy Drink

1 x Lamb of God's latest CD "Wrath" releasing on Feb. 24

1 x Sticky Bumps Surf Wax