Confessions of a Match.com User
COMMENTS

(0)

FILED UNDER: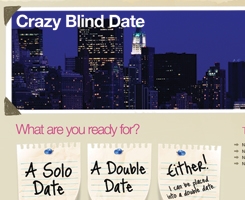 There's another new kid on the online dating block, and it preys on the most pervasive of all human urges: impulsiveness. Crazy Blind Date allows users in New York, Boston, San Francisco, and Austin to plug in their location and a few preferences, then go on a date RIGHT NOW! It sort of makes sense—online dating is definitely something to do on a lark, because the more time you give yourself to think about the more depressed and/or scared you will come.
We had a cracking time playing around on the site the other day. It was all fun and games until I realized that I could literally meet an "athletic Pacific Islander between 18 and 35" in the next three hours. Then it became a little too real and I had to check myself…
Anyway, if you live in one of those cities and want to get it cracking tonight, by all means hit up the site. But for those more interested in the psychology of online dating, we present this week's Friday Procrastinator: The Look of Love: Three Weeks as a Member of Match.com (via our good friends at Social Consumer).