Commando Job-Hunting: Top 10 University Career Services Websites
COMMENTS

(0)

FILED UNDER: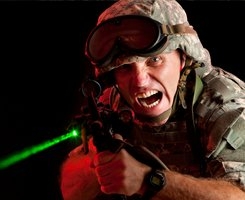 UPDATED: After meeting a ton of career service professionals at this year's Nace Conference in Las Vegas, we discovered some new contenders to the throne and decided to reassess the field.
Though we like to poke fun at schools that host one recruiting fair and think they're doing big things for their kids, it's also no secret that we're huge fans of the many college career offices that actually do the job they're supposed to (i.e., preparing students for the next step). And we like it even more when they are useful to all recent grads, not just they're own students.
If you're a job-hunt commando, you know what I'm talking about. If not, just think about it: while the University of Miami career center might not sit down for a counseling session with a Vassar student/grad, almost every career office has a website that's open to everyone. And on that website you'll usually find a Career Resource Library—essentially a link fest for researching job opportunities, exploring different career tracks, and finding jobs. These are free game for anyone with an Internet connection, so why not check them out?
To help know which forts to infiltrate, we did a little recon to find the Top 10 University Career Resource Libraries (in no particular order):
1) Columbia University. Comprehensive, easy to navigate, and wide-reaching. With resources broken down by industry and a great collection of international opportunities, Columbia's resource page can be described with one word: masterclass.
2) University of Washington in St. Louis. This may look like a poor man's version of the Columbia page, but don't be so fooled. Head down to the bottom of the page for the really useful "Locating Resources for Specific Populations" section, which covers opportunities for people of color, gay-friendly business organizations, as well as resources for job-seekers with disabilities (the latter resource is courtesy of UPenn's career center). There are also great city guides covering specific resources and job-related statistics for Boston, New York, and Los Angeles (e.g., major employers, average cost of an apartment, etc.).
3) University of Washington. A lot of great general resources and job listing sites for specific industries, as well as well as a helpful resource called "What Can I Do with a Major In..." While you're there, be sure to check out the phantom punch of the UW career site: a pretty solid blog!
4) UC-Irvine. A clear trend leader at this year's NACE conference, the UC-Irvine site helps students get something valuable from career services without ever having to actually leave their dorm room. The main thrust of this strategy is evident in their original videos, which cover topics like interviewing and internships. There are also helpful segments with employers talking about what they look for in candidates. Be sure to check out the webshops for tutorials on dressing for success, job search strategies for LGBT students, and more.
5) University of Indiana. UI probably has the most comprehensive link library going. It may look sparse, but utilize the drop down menus and you'll realize that there are extensive resources for almost every industry and every country you could possibly want.
6) Stanford. In addition to browsing a bunch of resources (check out the "Prepare for the Job Hunt" and "Job Search" tabs at the top), you can download a free Career Planning Handbook and perform a career self-assessment. Also, there are tons of free cover letter and resume templates up for grabs.
7) UC-Santa Barbara. Also repping for the UC system are the Gauchos, who get their Web 2.0 on with CareerTV, a blog, and a "Careers by Major" database.
8) Florida State. Big ups to FSU for a well-played use of a Facebook fan page, which pushes out career tips and alerts about on-campus recruiting events and more. No one wants their career service center stalking them on Facebook, but if they're just trying to get useful information to you, why not become a fan or join a group? Expect to see a lot more stuff like this as career centers get savvy to Facebook.
9) University of Wisconsin-Madison. If your the podcast type, UW's got you covered. Also check out the Guide to Nonprofits and Public Service.
10) Williams College. One of the better designed sites, Williams' career counseling hub has great alumni profiles, as well as how-tos and helpful information for international students.
Honorable Mentions: Virginia Tech, NYU Career Resources for International Students, University of Chicago, University of Chicago
It's not exactly Mission: Impossible, but commando-crawling into another school's Career Services website is a great way to gain free access to some awesome resources and get a leg up on the job-hunting competition.