Classic. Cheap. Hearty.
COMMENTS

(0)

FILED UNDER: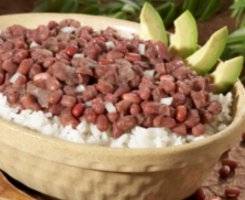 Red beans and rice is a perfect main dish when you're feeling a bit skint and a quality side for all sorts of goodies (including jerk chicken... stay tuned for next week). The recipe itself is super simple and is more about combining things than actual cooking.
Rice can be a bit of a mystery for some to cook, but here is a general rule: 1 cup rice to 2 cups water. Place on heat and cook until water is absorbed. Then allow the rice to stand.
For the red beans you need:
1 can kidney beans
2 cloves garlic
1/2 onion
Now, an essential question is - how hot should the beans be? You may use a jalapeño or habanero. You could add chili powder. Or just use hot sauce for the later kick. This is all up to you.
Dice the 1/2 onion and garlic. Add to skillet and cook down for 10 minutes. Add all contents of the can of beans. Simmer until the liquid is reduced. Season with salt and pepper. If you use jalapeño or habanero, these go in with the onion. Chili pepper can be added with the other seasoning.
Combine with one cup of cooked rice. Crack a Red Stripe.