Class Act
COMMENTS

(0)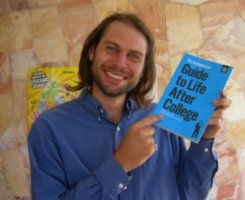 It's been a while since we actually talked of teaching so I thought I'd bring it back to the essence. All of my classes are a lot of fun, we play a lot of games and whatever the level I have a good rapport with my students. They tend to view me less as a teacher, more as a chilled out entertainer.
I've already walked you through a day in life and we'll have more of that to come soon. But for now, here's a rundown of some of my most memorable classes so far in Mexico.
Although I believe in planning thoroughly I do find myself "winging it" on a regular basis, but I think that this is definitely one of my strengths. Maybe that is because I am a bird…a sparrow. Captain Jack Sparrow.
Only joking, I'm not Jack, I'm just here to do his work. Besides, if I was a pirate I would be Edward TEACH, wouldn't I?!
On particularly hot days (i.e., every day) I like to take a stroll through the sunshine to the mall with my class at 4PM. If I can find a good reason we all get to amble in the air-con eating los helados. It's either that or we sit in class with our heads nodding in the afternoon heat!
Back in May the Champions League Final between Manchester United and Chelsea went into extra time and clashed with my 4PM class. Luckily I had scheduled a "football vocab" lesson in preparation for this very scenario so we gathered around the 3-inch television on the front desk with our notebooks and watched Englishmen miss penalties like nobody's business.
On a related topic I once banished a student from my classroom for brandishing offensive material—he was wearing a Chelsea shirt! He returned wearing the shirt inside-out and I had to sheepishly eat humble pie as I admitted I actually play in one every weekend!
Speaking of pie, I was once given a slice of the real stuff by another teacher in the same class (9AM). I sat munching it whilst my students looked on and I rewarded them with a vocab lesson on pie which ended with a full chorus of '4 and 20 Blackbirds.' I did make good by providing a full and delicious pie one morning during the next week.
My morning class is full of shiny happy people and often provides pure JOKZ. One morning I was reading an email from my brother in which he had attached some photos of himself enjoying the Whitsun Bank Holiday revelry in my village back in England—little did he know he had just sent me a lesson plan! After showing off the pictures and demonstrating Morris Dancing we had a vocab lesson on Bank Holidays, 'cos I'm bloody British!
My afternoon class is in a factory with lovely grounds so it is hard to stay stuck inside with the classroom's artificial lighting and sterile atmosphere—after all we are learning English so that we can use it outside in the real world! One fine afternoon circumstances conspired for a particularly favourable outcome that involved eating cake in the shade of a sunny day whilst we watched a football match.
That very same evening I knew there was only one way to top that so I took my class to the promotional stand across the road, there we found a bevy of beauties eager to ply us with free beer! I was allowed to partake only after I promised we would speak English!
But it is not all about larking off with free food and drink, sometimes it is about the inspiration behind a wonderful teachable moment. One evening a student named Rigo arrived late, explaining he had been to a job interview earlier that day...quick as I flash I whipped out my omnipresent (and rather tattered) copy of The Gradspot.com Guide to Life After College. I flipped to the interview page and, hey presto, there's your reading lesson! Of course it was hilarious—Gritz wrote it!
Until next time, study your lessons...
Positive Education Always Corrects Errors
Tom Wiseman hails from Oxford—the area, not the University—and is spending the year teaching English in San Luis Potosi, Mexico. His blog, "The Tao of Teaching," appears regularly on Gradspot.com.