Chickpeas and Bowties
COMMENTS

(0)

FILED UNDER: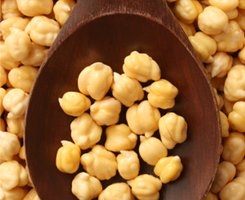 Balancing the lip-smacking tartness of lemon with some hot curry spice, this recipe is mellow enough to please the vegetarian and satisfying enough to fill up the carnivore. Admittedly, it's as much about creating a delicious meal as it is about using things in the pantry during lean times. But, fear not, the results are wonderful.
You need:
* 1 can chick peas
* 1/4 box bowties
* 1 lemon
* 1 onion
* 2 cloves of Garlic
* Half a bag baby spinach
* Chicken Stock
* Curry Powder
* Salt pepper.
Begin by slicing the onion and dicing the garlic. Saute in a large skillet, with a generous dose of olive oil. Once the onions have become translucent, drain the chick peas and add them to the pan. While this mixture is simmering away, begin boiling the pasta (once done, set this aside). Add 1/2 a cup of chicken stock, a healthy palmful of curry powder, the juice of one lemon, and salt/pepper to the pan. Allow the liquid to cook down a bit. Once all the flavors have mingled, toss in the pasta. A lovely meal for the first nights of spring.