Chickpea Burgers with Mint Raita
COMMENTS

(0)

FILED UNDER: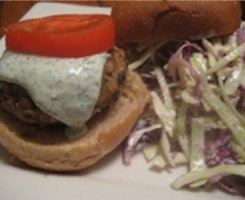 Phoebe the Quarter-Life Cook joins the "Recipe of the Week" team from Big Girls, Small Kitchen, a food and recipe guide for twenty-something cooks looking for user-friendly, affordable ways to navigate their kitchens.
Like many unassuming strokes of brilliance, the idea for these burgers sprung from a g-chat conversation with fellow quarter-life cook, Cara. For lack of more interesting things to relay from our day at the office, the conversation naturally digressed into a discussion on ways to use a leftover head of cabbage in Cara's fridge. Since cabbage, which eventually became the base for a tahini slaw accompanying these burgers, is admittedly a rather unusual item to have on hand regularly, the base for this dish comes from a much more likely pantry staple: a can of chickpeas.
Using just the beans along with a few fresh herbs and seasonings, you can create these hardy vegetarian burgers as a last minute weeknight meal. If carnivores among you are not convinced, the same base flavors can easily be added to ground beef or lamb.
Serve with tahini slaw if you happen to have a leftover head of cabbage lying around.
What You Need:
For the Burgers (makes 3-4 Burgers):
* 1 (15-ounce) can chickpeas, drained and rinsed
* 2 garlic cloves
* 1 shallot
* 1/4 cup mint, minced
* 1 tbsp parsley (optional)
* ½ a burger bun
* 1 large egg, whisked
* ½ cup walnuts, toasted and chopped
* ½ tsp salt
* ½ tsp cumin
* ¼ tsp paprika
* Salt
* Burger Buns
For the Raita:
* 1 cup plain Greek yogurt
* 1/3 cup mint leaves, minced
* 2 tbsp lemon juice (a little less than ½ lemon)
* ½ clove garlic, minced
* ½ tsp salt (to taste)
How to Cook:
In a small sauté pan, toast the walnuts over low heat until brown and fragrant. Keep an eye on these. Nuts are the easiest things to burn. When finished, salt well and chop finely.
Meanwhile, in a small food processor, pulse your bread or bun until it becomes crumbs. Set aside. Pulse the shallot and garlic in the processor until minced. Add the chickpeas, herbs, cumin, paprika, and salt and pulse to combine.
In a mixing bowl, fold together chickpea base, walnuts, ½ cup breadcrumbs, and egg. Form mixture into patties. Cover and let chill the patties in the refrigerator for ten minutes or so, or make the night before and leave overnight.
In a large skillet, heat a tablespoon or two of oil (enough to coat the bottom of the pan) over a medium flame. Cook the patties on both sides until nicely browned on the tops, about 3-5 minutes per side, making sure not to burn them. Set aside on paper towels to drain and cool.
In the meantime, combine all ingredients for the mint raita in a small bowl and whisk together.
Serve chickpea burgers on toasted buns with a generous spoonful of mint raita and a slice of tomato.
For the story behind this recipe, visit Big Girls, Small Kitchen.