Chicken with Soy, Beer, and Honey
COMMENTS

(0)

FILED UNDER: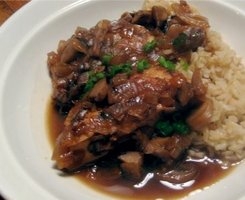 Phoebe the Quarter-Life Cook joins the "Recipe of the Week" team from Big Girls, Small Kitchen, a food and recipe guide for twenty-something cooks looking for user-friendly, affordable ways to navigate their kitchens.
I inherited this recipe from my Israeli friend, Eran, who created it as he was making his way back east from a stint working at a summer camp in Colorado and attempting to stretch his funds for a few more months with a day job at the local mall. Though I'm not quite sure of when or where he happened upon this culinary concoction—American beer, soy sauce, and honey—the result was astonishingly tasty, and non-so-astonishingly easy on the budget, given the stylish frugality of my wandering friend.
You can use whatever beer you have on hand, any cut of chicken on sale at the supermarket (though thighs seem always to be cheapest), and serve with whatever grained rice you have in your pantry, perhaps bettered by a dash or two of cumin or cinnamon—Eran's additions from the homeland.
[The recipe below works for a group of four. Just divide or multiply the recipe if you want to make more or less.]
What You Need:
* 12 boneless skinless chicken thighs (about 3 per person)
* 1 large yellow onion, diced
* 8 oz mushrooms, roughly chopped
* 2 garlic cloves, minced
* ¼ cup dark soy sauce
* 2 tbsp honey
* 1 bottle dark beer
How to Cook:
In a large non-stick skillet or sauté pan, heat 1 tsp of olive oil over a medium flame (enough to lightly coat the bottom of the pan). Brown the chicken thighs in batches, three or four at a time, until they have a good color on both sides. Set aside.
Add the onion to the pan, scraping up any drippings from the chicken, and sauté until translucent (about 5 minutes). Add the mushrooms and cook for another 5 minutes. Add the garlic and the soy sauce and continue to simmer for two minutes. When the mushrooms are tender, add the beer and honey and stir to combine. Reintroduce the chicken to the pan and submerge in the beer mixture. Simmer uncovered until the sauce has reduced slightly and the chicken is cooked through, about 5 to 10 more minutes.
Serve over white rice with a veggie side.
For the story behind this recipe, visit Big Girls, Small Kitchen.