Chicken Ranchero with 2-Minute Salsa
COMMENTS

(0)

FILED UNDER: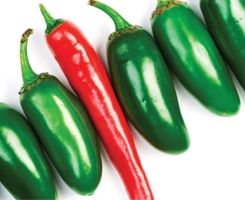 This recipe is an attempt to capture the flavors of a dish from a quality Mexican restaurant—conveniently called "Mexican Food"—in Kennett Square, PA. It's quick and tasty, and it requires only one pan. What you will need:
1 pound of boneless chicken (this can be breasts or thighs)
¾ of onion
1-2 Jalapenos, depending on your taste
1 teaspoon chili powder
2 teaspoons
Corn or flour tortillas (I like corn tortillas, especially when grilled on a hot skillet)
For the salsa:
1 tub of cherry tomatoes.
Some cilantro.
The remaining ¼ of onion.
½ a lime
1) Slice your onion, reserving ¼, and dice the jalapeños. Add a little oil to your pan, heat, and then toss in the onion and jalapeños.
2) While this mixture is cooking, dice your chicken and season lightly with salt and pepper.
3) When the onion and peppers have softened, add the chicken to the pan and brown.
4) Turn heat to low, add the chili powder and cumin, then simmer until the chicken is cooked through.
5) Halve the tomatoes, dice the remaining onion, and chop the cilantro. Toss all in a bowl. Season with salt and pepper and lime juice. Slice the remaining lime to use as a garnish.
6) Warm your tortillas any way you wish (microwave, in the pan, etc.).
Once cooking is completed you can dish up, or let everyone go at it any way they wish. Grated cheese and sour cream are good accompaniments, but by no means requirements. You can also serve this dish with rice and/or beans.