Cheat Sheets for New Chefs
COMMENTS

(0)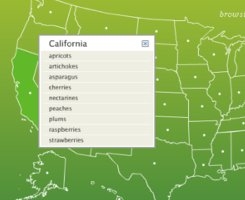 If anyone's leading the "Web 2.0" charge these days it's foodies—we've already brought you sites that tell you what flavors go together or offer meal recommendations based on your mood. But while those are pretty fun to play around with, this week I've found two sites that may have even more practical use for recent grads.
The first is Supercook, a site that generates recipes based on the ingredients that you have in your kitchen right now. Once you tell it what you've got, it aggregates recipes from around the Web that only use the ingredients at your disposal (it will also tell you more that involve one or two extra purchases). For inexperienced cooks who don't have the Iron Chef instinct yet, this site could save you from another budget-crushing takeout night.
The other "pick of the day" is the Seasonal Ingredient Map from Epicurious [via Lifehacker]. If you're still trying to get used to the art of buying your own produce and navigating the farmers market, use this tool to figure out what's grown in your state and what's fresh each month. As you roll over you can also get links to recipes and further info on each ingredient. Now, if you only knew where your local market was…
Bonuses: Learn to cook all those fresh vegetables with this article from The New York Times, and find a nice beer pairing for your meal with the help of Beer Select.