Cheap Gourmet Lunches to Bring to Work
COMMENTS

(0)

FILED UNDER: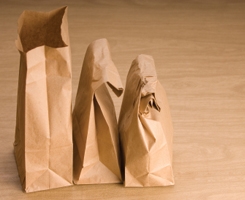 Every new job has at least one great part of the day: the oasis I like to call lunch. Here are a few lunch ideas that chuck the boring BLT and spice up your meal without taking a bite out of your salary.
Gourmet PB&J
Using fresh bakery bread and one of the many varieties of healthy peanut butters peanut butter&flash=on&cm_ref=htt on the market, you can revive an old favorite. Eat with sweet potato or pita chips, and some fruit for dessert. This lunch is quickly prepared, and the protein from the peanut butter will keep you energized for the rest of your day.
Veggie Lasagna
Leftover lasagna only gets better in the fridge, which means it's great for lunch the next day. Eat with a fresh green salad (keep it crisp by storing the greens and dressing separately). For dessert, try a bite of dark chocolate. This entire lunch can be packed and ready to go the night before, so you can grab an extra 15 minutes of sleep.
Meat-a Pita
This is the perfect way to use leftover grilled steak or chicken from your favorite restaurant. Spoon a mixture of diced steak/chicken and feta cheese into a whole-wheat pita. A romaine and tomato salad makes a fresh and crispy side (or could just be added to the pita). For dessert, apples with a healthy cinnamon dipping sauce (mix a quarter teaspoon of cinnamon with a single portion of vanilla yogurt). This makes a hearty, no-cook lunch that will make your coworkers jealous.
Chicken Fajita Wrap
Combine leftover grilled chicken with a dash of cumin, romaine lettuce, shredded cheese, and tomatoes, all wrapped in a flour tortilla. Red pepper dipping sauce adds some spice; just pulse some roasted red peppers and ranch dressing in a food processor for a few seconds.
Regardless of your recipe of choice, don't forget to grab a bottle of water or something crazy like a citrus green tea instead of that sugary soda. Pack some mixed nuts or a power bar for your afternoon cravings, and go enjoy your lunch break. If you have a different lunch idea, leave it in the comments below for the rest of the Gradspot.com community to devour.