The Chamonix Sandwich
COMMENTS

(0)

FILED UNDER: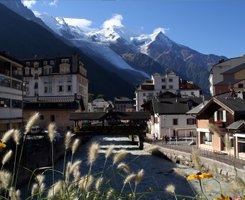 Nestled at the base of Mont-Blanc in the French Alps, Chamonix is a place of rugged terrain, jaw-dropping views, and crisp mountain air. Year-round it's swarmed by adventurers of all kinds, from white water rafting enthusiasts to hardcore mountaineers wielding icepicks and extremely strong sunblock. To keep all these ruddy-cheeked outdoorspeople well-fed, the charming town is a notable purveyor of hearty alpine treats like fondue and raclette. There's really nothing to beat filling yourself up with molten cheese before scaling a mountain or shredding the slopes.
In addition to massive meals, Chamonix is also a paradise for snacks, including a truly remarkable creation that I've dubbed "the Chamonix sandwich." Fitting easily into the pantheon of amazing sarnies featuring french fries (right alongside the Primanti Bros. trucker meal and the horseshoe), the Chamonix Sandwich is a culinary wonder that you can easily recreate in your own home with bread, fries, and some spicy mayo. Funnily enough, I believe that the version with beef patties in it was called the "Double American Midnight." I'm going to share my closest approximation of a vegetarian version, but you can throw in steak, beef patties, grilled chicken, or any other meat of your liking.
What You Need:
For Sandwich
* Fresh baguette or ciabatta
* Slices of muenster
* Shredded lettuce (as close to McDonald's style as you can make it)
For the Sauce
* Mayonnaise
* Lime
* Sriracha Hot Chili Paste
* Cilantro
How to Prepare:
Hopefully you have a George Foreman Grill or panini press to heat this baby up. If not, you can stick the sandwich in the frying pan or on the grill like a grilled cheese.
First, make your sauce. If you're lazy, you can just buy some Kraft Hot 'n' Spicy Mayo, but it will probably be more delicious if you whip up your own using this recipe. Once you've mixed it all up, cut open your bread and slather it with sauce. Next, arrange as many french fries as possible on one side of the bread. Honestly, you could make them on your own, but I'd recommend picking some up at Mickey D's or Burger King on your way home -- these will be the perfect size and consistency for the sandwich. Finally, add your shredded lettuce and lay slices of cheese over the fries.
Pop it in the panini press until the cheese and sauce smother the fries with gooey goodness, then serve with a Kronenburg.