Cereal Quiz
COMMENTS

(0)

FILED UNDER: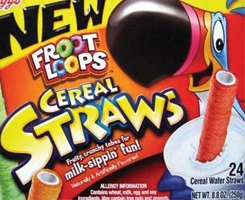 If you're anything like me, you've probably become dependent on cereal as a staple of the post-grad diet. After all, it easily fulfills all the necessary criteria—it doesn't require preparation, it doesn't go bad, and it's mad cheap. Recently, however, I started to wonder about myself when I realized I was buying a lot of Special K and attempting to put "fresh fruit" in it. I had to look in the back of the spoon (thus rendering my face bizarrely large) and say, "Get ahold of yourself, Gritz! You are not an attractive 35-year-old woman with exceedingly good yoga postures but no job. You are a 24-year-old dude with eczema and a boatload of internships under your belt. Eat some real cereal!"
In an attempt to recapture the days of yore, I ran out and bought several boxes of cereal straws, Cocoa Puffs, and basically anything that would turn regular milk into chocolate milk. I got out a crock-pot, fixed myself a massive bowl, and felt sort of like Ice Cube in Friday. Cashback!
And I guess it all paid off, because I just scored a 70% on this exceedingly difficult Spoon Candy quiz about cereals. It really brought back some memories, though I wish they had dropped a question about Nintendo cereal. Give it a shot, and then check back in with us Monday morning for more fortifying Gradspot know-how.