Buying a Couch
COMMENTS

(2)

FILED UNDER: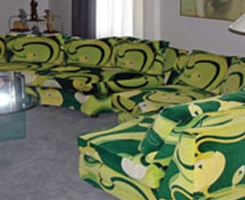 There are three criteria critical to purchasing a sofa: one, that it fits three people (while watching a football game or The Hills); two, that you can hook up on it; and three, that a friend can crash on it. However, there are a few additional things to keep in mind when purchasing it in order to avoid induction into the Ugly Couch Hall of Fame.
Here's what to look for: A hardwood frame, like maple or oak—avoid particle board at all costs! Cushions soft enough to hang out on but firm enough to keep you awake (down feels nice). Seats deep enough to fit Aunt Edna's oversized tush but shallow enough to keep your feet on the floor. And while a linen sofa would be dazzling, save yourself the cleaning bill and opt for Ultrasuede, leather, or other "high performance" fabrics.
Start with traditional sofa options, like this deco-style piece from Crate and Barrel, or Target's skirted version. If you're more adventurous, try something colorful and streamlined like this option from Crate and Barrel. Neo-traditionalists should check out CB2's take on a classic form.
If your buddies are campaigning for a futon, there are plenty of options, like this upholstered one from Target. For people who shun the futon for its ubiquitous appearance in college dorms, sofa beds are a great alternative. Choices range from CB2's modern to Jennifer Convertibles' traditional in styles that no one would suspect fold out.
If you come across four-figure price tags, don't get discouraged, just keep hunting. For instance, while there's a beautifully simple Room and Board loveseat option, here's something similar from Ikea for less than a quarter of the cost. Also, don't be afraid to check Craigslist, Facebook, and the Salvation Army for some great steals on furniture that is often still fairly new and totally usable.
Bottom line: enough Google searches and bargain shopping can guarantee anyone the relaxation future of their dreams.