Buy Video Games for Less or Sell Them for More
COMMENTS

(0)

FILED UNDER: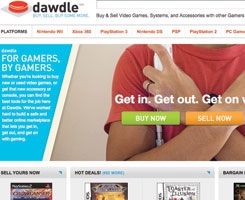 While sitting in your parents' basement playing video games is not exactly the most lucrative post-college existence, at least there's a new website that will make buying games cheaper and selling them more lucrative: Dawdle.com.
On Dawdle, you can buy and sell video games as easily as if you were on Amazon.com. There's even a Priceline-esque twist perfect for recent grad's on tight budgets: once you find a game you'd like to purchase, you can enter a price you're willing to pay. Then Dawdle scours its merchant partners to see if any are willing to sell it to for you that amount. You can also sell your games by listing a minimum sales price. If there's a match, transaction complete.
Now, if only you could remember the Contra code...