Boombastic Brunch Potatoes
COMMENTS

(0)

FILED UNDER: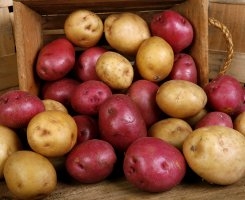 It is pretty obvious that last week you went out and got too many chilies for your ground pork. There are literally loads of good things to do with peppers. One is to spice up your average breakfast potato. It's an easy and hearty brunch side, and the peppers give it a little color and a lot of kick. Serve with some winning scrambled eggs and bacon. Boom shalaklak boom, you are the king (or queen) of brunch.
You need:
6-8 smallish red skinned potatoes (try hitting up your local farmers market)
1 serrano chili
2 cloves garlic
Salt, pepper, olive oil
Grated Parmesan
Dice potatoes, leaving skin on. Do same to chili and garlic. Heat olive oil in a heavy skillet. Add garlic and chili to infuse for about 2 minutes. Toss in potato. Cook until crisp on outside and tender on the inside. Sprinkle a hearty amount of Parmesan over the contents of skillet. Allow to melt. Serve it up with your eggs a nice mimosa or Bloody Mary. Pure class.