Blazing Hot Blazers
COMMENTS

(0)

FILED UNDER: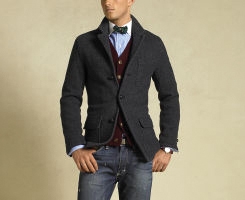 Walk through any college campus during a crisp autumn day and it will be full of students in candy-colored fleeces. While these fuzzy, shapeless coats are ideal for the scruffy student, a fleece is less than desirable for us sophisticated post-grads. How to look polished and stay warm this fall? Add a bit of couture to your coat collection with an elegant staple: the blazer. Don't be misled; blazers aren't only the top piece of a suit, but an extremely functional and fashionable item outside the office.
Men, pair your blazer with jeans and a vintage t-shirt after work and you're ready for happy hour (FYI: we love it when you mix businessman with boy-next-door). Women, wear your blazer with shorts and flats—hello, Mischa Barton!—or skinny jeans and heels. Here are a few suggestions of where to surf and splurge on a blazer with a bit of flair.
Size matters
Experiment with length this season. Men, try this Shrunken Twill Blazer from Urban Outfitters ($69) for a hip piece with shorter sleeves. Women, we recommend The Sammy Knit Jacket by Forever 21 ($27.80) for a cropped blazer with ¾ sleeves that goes perfectly over an empire-waist dress.
Feeling haute, haute, haute
Europeans aren't the only ones who like their clothing tight. Opt for a more fitted jacket and show off the body you've been sweating away at the gym to achieve. Monsieurs, dress en vogue with Topman's Black Skinny Shawl Jacket (£65, and they ship to America). Madames, look sleek in To The Max's Pocket Jacket ($138); the stretch material will ensure it hugs all the right places.
A blazer of a different color
If you're not a fan of black, here are more colorful options. All you lumberjacks will love this manly moss green Fink Cord on the Road Blazer at Urban Outfitters ($79). Calling all fashionistas—any trendsetter knows that cobalt blue is the new "it" color this season. Rock this vibrant cobalt blue Sutton Studio's Exclusive Velour Blazer ($149).
On a softer note
Still missing your fleece? Here are some velvet options that will feel just as good. Gentlemen, show her that you clean up well in this sharp Two a.m. Velvet Tuxedo Blazer ($135). Ladies, give him a reason to snuggle up close in this cozy Velvet Bella Jacket by J.Crew ($158).
Put some prep in your step
A blazer is essentially a classic item, so wearing it in a conventional cut and style will always be chic. These options will have you looking just as preppy as the NYC private school uniform-wearing cast of Gossip Girl. Guys, throw this prim and proper Ralph Lauren's Wool Tweed Knit Sport Coat ($325) after a day of golfing at the country club. Gals, channel your inner-Hillary and take on the corporate world in this 3-Button Wool Saxxon Jacket by Brooks Brothers ($498).