Black Friday: To Shop or Not to Shop?
COMMENTS

(1)

FILED UNDER: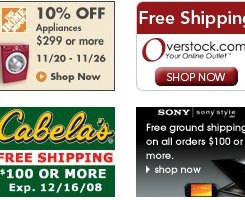 The hour draws nigh for "Black Friday," the post-Thanksgiving free-for-all where everyone celebrates the previous day's gluttony by going on a huge holiday season shopping spree. If you want to snag the best deals, you've got to combine patience with a take-no-prisoners attitude—be prepared for traffics, crowds, and split-second spending decisions. Or...you could just avoid all that bother and assume that prices will drop even further in the coming weeks.
You see, like most aspects of the economy, retail has been hit hard by the recession. With consumer spending down, merchants are putting even greater emphasis than usual on the importance of Black Friday sales. As Erin Hershkowitz, a spokeswoman for the International Council of Shopping Centers, notes, "If Black Friday [is] not as successful, then [retailers are] going to be stuck with more inventory and they're going to have to mark down further." So, to be a super savvy customer, you've got to make a decision: if you think that the economy will continue to falter and consumers will be hesitant to spend, you can assume that retailers will be desperate to unload inventory at even lower prices in the coming weeks.
As a final option (besides just completely not caring about shopping at all), you can always just chill at home, see how things go, and then use that information as an indicator of whether you should go all out on Cyber Monday or wait things out a bit. (If you are ordering online or sending out gifts early, make sure you check out these 11 Sure-Fire Ways to Save on Shipping.)
HAPPY THANKSGIVING!
Black Friday sales intensity in U.S. downturn [via Reuters]