The Best Places to Celebrate New Year's
COMMENTS

(1)

FILED UNDER: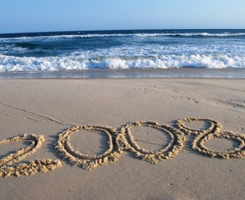 New York still draws the biggest crowds on New Year's Eve—and it's a great party if you don't mind getting frostbite and holding your bladder for hours on end. Here are ten alternatives to an East Coast New Year's in the Big Apple:
1. New Orleans, Louisiana. Two years after Katrina, New Orleans is set to reclaim its party reputation. Bourbon Street is still the place to be; check out PubClub's party guide for tips and links.
2. Las Vegas, Nevada. Sin City's the destination for big lights, bigger shows, and monumental budgets. Ker-ching.
3. San Francisco, California. Stake out a rooftop view of the city and countdown with hipsters, swingers, techies, and drag queens. Don't worry, everybody makes nice by midnight.
4. Honolulu, Hawaii. Fireworks? Check. Bikinis? Check. Mai Tais? You betcha. It's also the last major city to celebrate New Year's, so you can party long after the rest of the world is sleeping off their hangovers.
5. Telluride, Colorado. This hard-to-reach ski town hosts a red-torch parade down black diamond slopes in the dark—best viewed from the heated gondola that runs for free all night.
6. Miami, Florida. Head to South Beach to see and be seen, or watch the Big Orange Ball drop at Chopin Plaza.
7. Austin, Texas. In the Lone Star State's most notorious party town, Sixth Street is destination numero uno for New Year's revelers. Get there early to check out the Trail of Lights.
8. Flagstaff, Arizona. Forget crystal balls—come midnight, Flagstaff will drop a giant pinecone from the Weatherford Hotel. No, really.
9. Mount Hood, Oregon. Bring in the New Year with a sick daffy-twister-spread in Mt. Hood's Skibowl, where the lifts run until 2am while fireworks light up the mountain.
10. Quebec, Canada. Okay, so it's not quite this side of the border—but December 31st kicks off the city's 400th anniversary party. (And you thought your great-aunt Millie was getting on…)
If you really want to go balls out, try these international destinations. You can always get back on your budget in 2008.
1. Rio de Janeiro, Brazil. Copacabana Beach brings in over two million people alone, dressed (or undressed) to the nines and ready for a steamy night (with temperatures up to 110°F, that's not just a metaphor).
2. Tokyo, Japan. For intrepid partiers, Tokyo's three-day celebration is packed with awesome fireworks and killer clubbing. It's also an important religious holiday so put some temples on your list, too.
3. Amsterdam, the Netherlands. In a city that tolerates just about anything, New Years in Amsterdam is an explosion of festivities and fireworks. Tote champagne to Dam Square or Nieuwmarket and then party til morning at one of the city's hotspots.
4. Prague, Czech Republic. Paris is great, but Prague is cheap. Set off fireworks with the locals in Old Town or take a cruise down the Vltava River—and don't forget your woolies, since the temp drops to 40°F.
5. Millennium Island, Kiribati. Be on the brink—literally. Just west of the International Date Line, Millennium Island is the first point of land to usher in the New Year, and there are certainly worse places to party than a pristine tropical island. Just make sure you get there before global warming puts it underwater.