The Best Job in the World?
COMMENTS

(0)

FILED UNDER: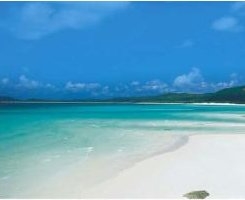 A position advertising itself as "The Best Job in the World" is making the rounds on the 'net and picking up a lot of press. How much? Even my MOM emailed it to me! Here's a brief job description:
"The Caretaker of the Islands of the Great Barrier Reef is a newly created position. There are a few minor tasks that need to be taken care of, but the most important duty is to report back to Tourism Queensland (and the world) and let us know what's taking place on the Islands of the Great Barrier Reef."
First things first: the job title is pretty sweet. And the perks aren't too bad, either. The Independent runs through the vital details, including a $150,000 salary for six months of work, free board in a $5m villa, and access to a golf buggy. Once there, all you have to do is "explore" and post videos, blogs, and photos about all the great stuff you can do in the Great Barrier Reef.
Whoever thought of this job is a genius marketer, because the promised salary's probably already paid for itself with the buzz that's been generated about the opportunity. The promotional train is already going full speed ahead. All the lucky "caretaker" has to do is keep it running!
learn how to apply here.