The Best and Worst Cities to Look for a Job
COMMENTS

(0)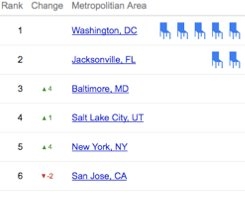 Barack Obama said he would create more jobs, and he's lived up to his promise—at least in his new hometown. According to a study on the Best and Worst Cities to Look for a Job, Washington D.C. is a job-hunter's heaven, with six job postings for every unemployed person. (I guess the government sector really is booming!)
Not surprisingly, Detroit wallows at the bottom of the list, with 18 unemployed folks grappling for each listing. Hartford comes in at #7 (1 posting : 2 seekers), but as an ex-Hartford resident, I can't in good conscience recommend moving there!
Needless to say, follow up questions abound. Most notably, how many recent grads are legitimately counted amongst these "unemployed" and how many of these postings are even relevant to them? And how many people per job posting suffer from poverexia?
Still, if you're deciding where to move, it might be worth cross-referencing this list with Gradspot's Top 10 Cities for Recent Grads and going from there. It beats throwing darts at a map of the United States.
Best and Worst Cities to Look for a Job [via Techcrunch]