Balling on a Budget: How to Buy Suits from eBay
COMMENTS

(0)

FILED UNDER: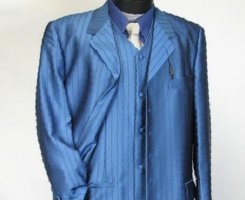 This week, one of my best friend's from college graduated from Harvard Law School. In addition to being (in the words of Al Pacino in Scarface) "such a good lawyer [mayng]," he is also known for his enviable fashion sense. In light of his recent accomplishment, I asked him how he managed to stay so fresh on a student budget. His mot-so-dirty little secret? He bought all his suits off eBay. Here's how to do it:
Where to look. Go to eBay, dummy! Search "men's suits," or any specific type of suit you're looking for [e.g., tuxedo, zoot suit, wool suit].
Go for style. If you need a nice, conservative suit for your new job at a law firm or investment bank, go ahead and spend some real money at a place like Brooks Brothers. Buying suits on eBay is about pimping your personal wardrobe and finding bargain-bin gems that are too classic to go to waste.
Approach the task like a jungle cat stalking its prey. Set a spending limit ($10? $20?) for a suit and don't go over it. Only buy things that you think you would actually wear. It may take a few months to get some good loot, but patience is a virtue.
Be prepared for a high failure rate in terms of what is wearable -- 60-80%. And if you do find something nice, spend the money to have it tailored up nicely, too. That's the whole logic -- decent suits that a good tailor can turn into good to great suits.
There you have it. Above, the shimmering blue zoot suit that I plan to order right now.