Backyard Tourism: San Francisco
COMMENTS

(0)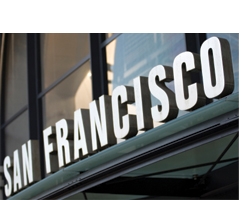 From hipsters to history buffs to hippies in the buff, San Francisco's got something for everyone. Best of all, plenty of fun can be had without breaking the bank.
If you want to...
Check Off "The List"
Hop on the historic Cable Car just after Union Square to dodge the fare; it'll take you past the country's crookedest street and drop you near Pier 39, where you can bark at sea lions and sign up for a tour of Alcatraz, the prison island that held Al Capone and "Machine Gun" Kelly in the 1930s. Other classic sights include the iconic Golden Gate Bridge, Coit Tower, and the Palace of the Fine Arts.
Get Inspired
Explore your inner art critic on First Thursdays, when lots of galleries stay open late and uncork their bubbly for free. Otherwise, break out those expiration date-free student IDs for the greats: MOMA, de Young Museum, Asian Art Museum, and the childish-but-still-enlightening Exploratorium. The Mission district also displays its Latino heritage on colorful street murals.
Get Your Groove On
Legendary Amoeba on Haight Street houses a phenomenal collection of new and used music and hosts free concerts each month. Other quirky venues for live music include Bottom of the Hill, Café du Nord, Makeout Room, Hotel Utah, and Slim's. Festivals—often free—are always springing up in Golden Gate Park and around Berkeley.
Titillate Your Taste Buds
Go Italian in North Beach, Chinese in Chinatown, and Mexican in the Mission, but make sure you leave room to sample the incredible variety of cuisines scattered all over the city. There's Burmese, Brazilian, Persian, Greek, Ethiopian, and just about anything else you can think of. Before you chow, consult the Guardian's Best of the Bay, Citysearch's Best Cheap Eats, and Dianasaurus's irreverent "I'd Rather Be Fat." Chocolate lovers mustn't miss Ghiradelli Square, which features a working display of the chocolate-making process (and mind-melting milkshakes).
If you've got a little more time (and a designated driver), head north to lush Napa Valley or Sonoma for a self-guided tour of the region's excellent wineries. Many vineyards offer wine tastings for free or charge a fee of $5 to $10 that works as a discount on any bottle you buy.
Be One With Nature
When the bustle of the city gets to be too much, escape is just around the corner. The labyrinthine Golden Gate Park (free entry) is great for long walks, botany lessons, and acid trips (or so I hear). Within the park's boundaries you can find a Central American cloud forest, Japanese tea garden, several museums, and gangs of squirrels that terrorize unsuspecting picnickers.
For listings of free and cheap events—including art shows, concerts, film screenings, street fairs, and naked parades—check out the following top-notch websites: