Backyard Tourism: NYC
COMMENTS

(0)

FILED UNDER: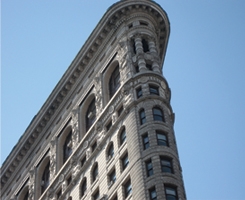 Whether you just moved to New York City or have been living there for a long time, there's a seemingly unlimited number of places to explore. Of course there's the cliché hit list: the Statue of Liberty, Empire State Building, Metropolitan Museum of Art, etc. But then there's the city's less-visited B squad – and, for some, it far surpasses the A team.
For the Renaissance Fair Fan
Looking for a little bit of medieval times without having to go to the cheesy (read: awesome) restaurant? Check out The Cloisters. Run by the Metropolitan Museum of Art, the Cloisters was built on the shores of the Hudson by combining pieces from monastic sites in southern France. There's a ton of medieval art exhibited here, and it's surrounded by a great park.
For People and Building Watchers
There's no better neighborhood in the city to catch a glimpse of the ordinary and eclectic side by side than the West Village. For example, John Wilkes Booth hatched a plan to kidnap President Lincoln at 45 Grove Street. The Stonewall Inn on Christopher Street was the location of Gay Revolution in 1969. And, at 401 Bleecker stands everyone's favorite bakery, Magnolia (made famous by Sex in the City). So take a stroll through the winding streets and pass culinary hotspots and every walk of life.
For the Bookworm
There's many an old parchment in New York, but no where do the pages turn more than in the main New York Public Library. This Beaux Arts building even houses an original Gutenberg Bible, and sits on the east end of Bryant Park. And if this puts you in the book mood, also check out The Strand, an iconic book store near Union Square known for its eight miles of books and scarily knowledgeable staff.
Yes, There's More
The Colonialist should check out Governors Island, or, if you don't want to leave Manhattan, the Morris-Jumel Mansion. The Paranormal Researcher should visit the shell of the Renwick Smallpox Hospital on Roosevelt Island. And this is just the tip of the iceberg. For more on the hidden gems of NYC, check out Travelgoat.com, Forgotten NY, New York Magazine, and Time Out NY.