Baby, it's cold outside…and I have no coat
COMMENTS

(0)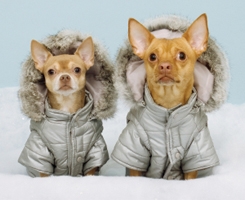 When I first announced my plans to move to New York after graduation to friends and family, I was met with the same response from all. Although concerns for my safety and sanity were expressed secondarily, the primary worry among them was that I would freeze to death in the winter.
At Arizona State University, I was a "Sun Devil." I grew up in Phoenix, the "Valley of the Sun." The last time I saw snow was as a delighted 6-year-old who thought making snow angels in a pink puffy parka had to be as good as life gets.
This past weekend, I finally admitted defeat and acknowledged that it's getting colder in the city. I put the tank tops under the bed, got my measly supply of long-sleeve shirts out, and went shopping.
But for a newbie to cold weather like me, navigating the winter wardrobe selections can be daunting. What's the difference between a pea coat and a dress coat? Which skirts go with tights instead of pantyhose? How do I know if that pair of boots is too slutty to wear to work? And why the hell won't my cell phone work in Macy's so I can call my fashionista friends and ask — even though those jerks back in the 90-degree Arizona desert are likely as clueless as I am?
I think in the end, I managed to make some reasonable purchases. Unfortunately, I'll never know if my choices were appropriate by examining other New Yorkers. Yesterday morning, I paid attention to what the city dwellers wore in a vain attempt to copy their style. One woman had on a full-length winter coat and scarf with flip-flops. Another wore a tank top with the biggest, puffiest vest I've ever seen. I saw boots paired with spaghetti straps and sweaters over shorts.
Come on, NYC — get your seasonal style together! Because right now, you've got a serious lack of understanding of the coming winter, and your friend Arizona keeps calling. He says you're going to freeze to death.