Asparagus Fusilli
COMMENTS

(0)

FILED UNDER: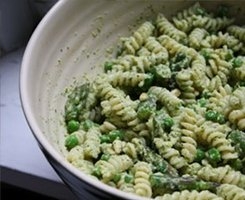 Phoebe the Quarter-Life Cook joins the "Recipe of the Week" team from Big Girls, Small Kitchen, a food and recipe guide for twenty-something cooks looking for user-friendly, affordable ways to navigate their kitchens.
During the spring and summer, the farmers' markets and the well-stocked supermarkets have been overloaded with bundles upon bundles of fresh, local asparagus. The same goes for the table at Blue Hill at Stone Barns, where I was lucky enough to go for a lunch sponsored by the very cool farm-to-table organization, Food For Thought Tours. There, I was served asparagus on top of fresh baby greens, and, most unusual, it was all drizzled with a puree of more asparagus and mint. I tried to recreate these fresh flavors in this dish, using the asparagus stalks to create a creamy, thick pesto that amplifies the full flavor of the ingredients.
What You Need:
* 2 lb asparagus
* 1 lb fusilli
* 1 cup frozen peas
* 1 cup mint leaves, tightly packed
* 2 cloves garlic
* 1 lemon, juiced
* ½ cup grated Parmesan
* ¾ cup pinenuts, toasted
* ¼ cup olive oil
* Salt
How to Cook:
Bring a large pot of water to boil. Blanch the asparagus for a few minutes, until just tender. Remove with tongs to an ice bath or a colander until running cold water. Set aside. Return the water to a boil and cook the pasta according to package directions. During the last minute of cooking, add the peas. Drain in a colander.
While the pasta is cooking, cut the asparagus into 1 inch pieces. Using the bottom third of the stalks, add 1 cup of asparagus stalks to a small food processor. Pulse the asparagus along with the mint, garlic, lemon juice, and ¼ cup of the pine nuts. Mix in the Parmesan and salt to taste.
Toss together the pasta, peas, remaining asparagus, toasted pinenuts, and pesto. Best if served immediately. If serving room temperature, make sure you re-taste for seasoning once the pasta has cooled.