The Alpha Clown of Craigslist
COMMENTS

(0)

FILED UNDER: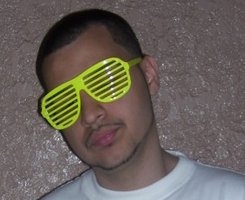 Speaking of Casual Encounters…ladyz, meet Mr. Right! He iz HERE and, perhaps even more frighteningly, he's WAITIN ON U! This personal ad defines new levels of clowning, but I can't really knock the hustle. He's clearly done the math and realized that if a picture is worth a thousand words, 30 pictures must be worth, like, way more than that. Check out the his "sentence" introduction and extensive photo shoot. I guess it does the job—here are some things you'll learn about "Mr. Right":

He is a sucker for plastic sunglasses and has probably dropped AT LEAST $45 on them in the past year.
He is a master of the self-portrait, and may or may not know how to operate his digital camera on a timer.
He hangs out in places with columns that are painted royal blue (also known as "schools").
He once went to a wedding and took some nice photos…extraneous information?
He got a full tax rebate this year! (By my count he is literally holding $600 in those pics.)
He loves giving people the finger.
He watches FX!? (Fifty bucks says he's a Dharma and Greg fan.)
He may have a child.
He has yet to learn to tie his shoes.
Facial hair is his forte.
So, what do you think, ladies? Is this the rubric for "Mr. Right"? I hope so…as soon as I find an air-brushed tee-shirt of the Joker I'm pretty much there! [via
Gawker
]