The Gradspot.com Guide to Life After College
The Gradspot.com Guide to Life After College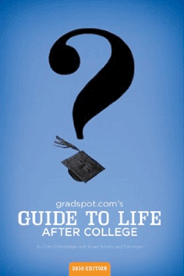 Packed with indispensable tips, candid advice, and humorous dispatches from early adulthood, this easy to use book has everything you need to know but didn't learn in college!
You can buy a paperback copy of the 2009/2010 edition via Amazon.com
Price: $14.95
Buy Now >
About the Book
Whether you're searching for your first apartment, navigating the treacherous waters of office politics, or just trying to figure out how the hell to file your tax return, The Gradspot.com Guide to Life After College tackles the most common issues facing twentysomethings as they find their feet in the "real world." Here's what you can expect:

The best tips and tricks culled from our survival guides and other articles on Gradspot.com, as well as a whole bunch of fresh material covering everything from handling an office romance to finding compatible roommates and switching your cell phone plan.
Thoroughly researched solutions for the most common recent grad issues, developed not only from the experiences of Gradspot writers, but also from the opinions of topic experts and other recent grads.
Fun, easy-to-navigate chapters that are perfect for flipping through when you, um, need to entertain/edify yourself for five minutes or so.
"Confessions of a Match.com User," "Confessions of a Nomad," and other hilarious anecdotes from post-college life.
Interviews (with rappers and PhDs alike), exhibits, top ten lists, and much more.
Topics include: Finding an Apt • Job Hunting • Healthcare • Credit • Top Recent Grad Cities • Cars • Student Debt • Saving & Investing • Office Etiquette • Networking • Dating • Travel • Cooking • Moving Home • The "One-Year Rut" • Buying a Home • 401(k)s • Etc.
Excerpts
The Gradspot.com Guide to Life After College pulls no punches in giving you real, honest advice about entering the "real world":
On Finding Your First Apartment
Life beyond the dorm and your parents' house can be a bit daunting if you've never had to take care of yourself before. But it's important to remember that even though some prisons are massive and have very good facilities, they still feel very claustrophobic and small for the simple fact that they are prisons. The golden goggles of freedom, on the other hand, can make the tiniest, coldest, most roach-infested apartment look like Buckingham Palace. Maybe that's a bit of an exaggeration. But like Paul Bunyan's height, it's an exaggeration with a point.

On Surviving Your First Day at Work
Starting work can potentially be one of the most awkward things you've ever done in your life. Waiting to be told where to sit, how to log into your e-mail, and who (if anyone) is going to go to lunch with you can make you feel like a helpless infant waiting to suck at the teat of responsibility. It can also be an incredibly nerve-racking experience—an unofficial survey conducted by me shows that first day nerves register even higher on peoples' fear factor than losing their virginity! The thing to remember is that adults in the workforce can be as awkward, lazy, or self-absorbed as the people you knew in college, and unfortunately not everyone is going to jump out of his seat to make the new person feel comfortable. You have to slowly work your way into the fold—don't force it.

On Financial Responsibility
It is sometimes comforting to believe that all the mistakes we make now—like binge drinking, burrito-only diets, and unprotected intercourse—won't affect us when we're older. But one thing we can't ignore is fiscal irresponsibility. Between credit scores and compound interest, the American financial institution is designed to reward long-term saving and responsibility. So while a booze-soaked week in Acapulco hopefully won't be held against you when you're 65, your money and the people you owe it to are the proverbial elephants in the room. They are big, powerful, and have very good memories.
Share
Know someone who's graduating? Or maybe someone who just likes hilarious books? The Gradspot.com Guide to Life After College is the perfect graduation gift, coffee-table conversation starter, or trusty bathroom standby. Share it with a friend or your favorite grad:
Share on Facebook >
(by becoming a fan, you'll share the book with all your facebook friends)
Email a Friend >
(you must be a gradspot.com user to utilize this feature; join now)
Reviews & Testimonials
Here's what other people are saying about the book:
Here's a book that would make a great college graduation gift—or even better, a great gift for those still in school who could use some time getting prepared for "the real world," or for that matter, anyone looking to start afresh. The Gradspot.com Guide to Life After College [is] a handy compendium of sensible, smartly written advice on being on one's own: from the top 10 things to do after graduating — among them are read what you want for a change; learn to cook; hang out with your family while you can — to hunting for housing and jobs, cleaning up your online identity, surviving that awkward first day at work and office romances and handling your finances and insurance and car needs.
-- The Hartford Courant
This is a book that you start reading without much hope and then you can't put it down until you've gotten through the last page. Written in a very "friend next door fashion," [The Gradspot.com Guide to Life After College] guides graduates and even those a couple of years out of school on a wide range of issues, from ways to earn extra money while unemployed to the consequences of taking a pay cut in order to work at a dream job. What makes this guide drastically different from most on the market is not only the tone, but also the direction it gives readers. It has everything from specific sites for travel deals to job sites not readily know by the mass population. Whether you need advice on your career, housing, dating or traveling, [this book] does it all.
-- College News
"I was lucky enough to get an advanced copy of the book and I quickly realized that there's a lot more to life after college than finding a job. I feel like I'm one step ahead of the game already."
-- Raymond Carta, Bowdoin College, Class of 2008
"I wish I had this book when I graduated. I ran into most of the issues the book raises and would have spent a lot less time trying to figure out what to do had I owned a copy."
-- Davina Pike, Harvard University, Class of 2006
"I just received our recent bulk order of The Gradspot.com Guide to Life After College and I am already thinking we should have ordered more to share with our graduating students! I believe it is as indispensable to exiting college life as The Naked Roommate is to entering it. Life After College offers learned wisdom, brutal reality, sly wit, and common sense about topics ranging from understanding healthcare to networking to living life well and cheaply. It is sort of like having your mother whispering in your ear, if your mom were incredibly knowledgeable, very cool, said things like, 'no one likes a brown nosing sycophant,' and could be put on a shelf when you got tired of taking advice."
-- Andrea Hershatter, Associate Dean & BBA Program Director, Goizueta Business School, Emory University
"It's nice to see a perspective on graduating from some people who aren't 65-years-old. These guys provide a great rubric for tackling the post-college transition -- educate yourself and handle the essentials, but throw that 'the best four years are behind you' nonsense out the window."
-- Theodore Bressman, Intern Memo, Editor & Co-Founder
About the Authors
Chris Schonberger (Harvard University, Class of '06) is Editor-in-Chief of Gradspot.com. Previously, he has written for Entertainment Weekly, Forbes.com, and the Let's Go travel guide series. Stuart Schultz (Emory University, Class of '04) founded Gradspot.com and currently serves as CEO.
As twentysomethings still intimately aware of the challenges of early adulthood, Schonberger and Schultz wrote The Gradspot.com Guide to Life After College to help other recent grads get the information they need without wading through dry, out-of-date resources. This is the book they wish they had when they graduated.
Resources
The Gradspot.com Guide to Life After College is the gift that keeps on giving. In addition to the content in the book, we've also provided the additional resources below: